Help Center
Frequently Asked Questions
How can I create travel?
Add travel title, description, cover photo and select category. Tap 'Next' to select photos. Select photos you want to add to your travel and press 'Done'. Check your photos. Photo with an error sign has no location - you cannot add it to your travel. *There must be at least one photo with location, otherwise you can't create travel. Your photos are sorted by days! Now you can add a description to each travel day or add info to photos. Add information, save it and create your travel! See more details in Demo on the start screen.
How can I reset my password?
Tap "Forgot my password" and enter your e-mail. Tap "Send reset e-mail". Check your mailbox. Follow the instruction in the e-mail. After you tap the reset URL, you'll be forwarded to the website where you enter a new password and confirm it. Then go to the app and sign in with your new password.
How to sign up for Pixtrek?
Tap "Sign up" at the bottom of your screen. You'll be redirected to the Sign Up page. Enter your name, e-mail, and password and confirm them. Congrats! You are now the user of Pixtrek. Also, you can sign in with your Facebook account by tapping the button "Sign in with Facebook" and confirming your sign in.
What can I do with Pixtrek?
Create travel - your travel album. You just add photos - our app sorts them by time, date and locations, generates a viewable and editable map.
Share your impressions by adding the description to travel, day or photo.
Track your friends' reactions when they add comments, likes, and shares.
Get to know something new about your friends, bloggers and the whole world from your customized travel news feed.
Find inspiration for new adventures.
Follow the most popular directions in your target directions, cities, and countries.
Recollect the story of your travels and save memories about your happy moments.
Discover the world via photos, review new interesting places and landscapes found by your friends and professional travellers.
Manage your travels and subscriptions with Pixtrek web-interface.
How can I get photos with location?
To take photos with location you should turn on Location tags for photos in your camera application. To do it, please, select your device's brand.
1. Samsung
If you've got a Samsung model with their custom TouchWiz interface, please follow the instructions.
To turn the GPS location tags for photos, go to the Camera app's settings menu and find the Location tags option.
Note: if holding the phone in landscape, you'll probably need to scroll down towards the bottom of options to find it.
2. MIUI devices (Xiaomi, Redmi, Mi, others)
If you've got a MIUI device, please follow the instructions.
Go to inside the Camera app and:
Slide right to reveal the shooting modes panel;
Click on the Gear icon;
The first option at the top is Store location info, turn it on.
3. Sony
If you've got a Sony device, please follow the instructions.
Go to the Camera app;
Tap the triple-dot button;
Go to the Settings panel;
Turn Geotagging on.
4. HTC
If you've got an HTC model, please follow the instructions.
Go to the Camera app's settings,
Locate the Geotag photos options and turn it on.
5. iOS devices
Go to Settings > Privacy > Location Services.
Make sure that Location Services is on.
Scroll down to find the app.
Tap the app and select an option:

Never: Prevents access to Location Services information.
Ask Next Time: This allows you to choose Always While Using App, Allow Once, or Don't Allow.
While Using the App: Allows access to Location Services only when the app or one of its features is visible on screen. If an app is set to While Using the App, you might see your status bar turn blue with a message that an app is actively using your location.
Always: Allows access to your location even when the app is in the background.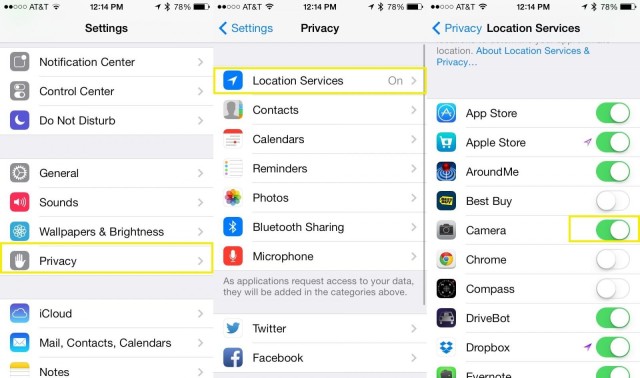 6. With other devices and brands
To turn on geotagging on Android devices do the following:
Open the Camera app on your Android device;
Tap on three horizontal lines to open the menu;
Tap on the gear icon;
You will see the camera settings;
Tap on GPS tag (on some devices this option is named differently, for instance, geotag, location tag, etc.) and turn it on.
If you have other devices or cannot find GPS or Geotagging option in your Camera's settings, try checking if Camera has access to Location in the other way.
Open your phone's Settings app.
Tap Location.
If you don't see "Location," tap Security & location - Location.
If you have a work profile, tap Advanced - Location.
Tap App permission or App level permissions.
Find Camera app in the list. Check if location is permitted.
To change the app's permissions, tap it, then choose the location access for the app: allow always or allow when the app is in use.
Did'nt Find Answer, Submit Your Question.